Ethereum News
Ethereum Crosses $150 Mark with a 3.65% Hike Overnight
Ethereum has crossed its long-pending target of $150 after the last day's 3.65% increment in the value against USD
ETH may continue its growth for the coming few days and resistance may follow at $157
Ethereum has been through three major price variations in the last 24 hours and the price has now reached beyond 150 USD from 147 USD. It has received a 3.65% hike in total over these 24 hours.
Ethereum Price Analysis:
ETH coin opened the day at 147.83 USD and over the next 9 and a half hours, it lost 4.38% and got placed at 141.36 USD. It was followed by a 10.20% hike that added 14.42 USD and pushed the price of Ethereum to 155.78 USD, the highest for the day. However, this high value could not be sustained for long and the price took a downward shift towards 152 USD over the next 8 hours. The current price of ETH coin has been maintained well above 150 USD.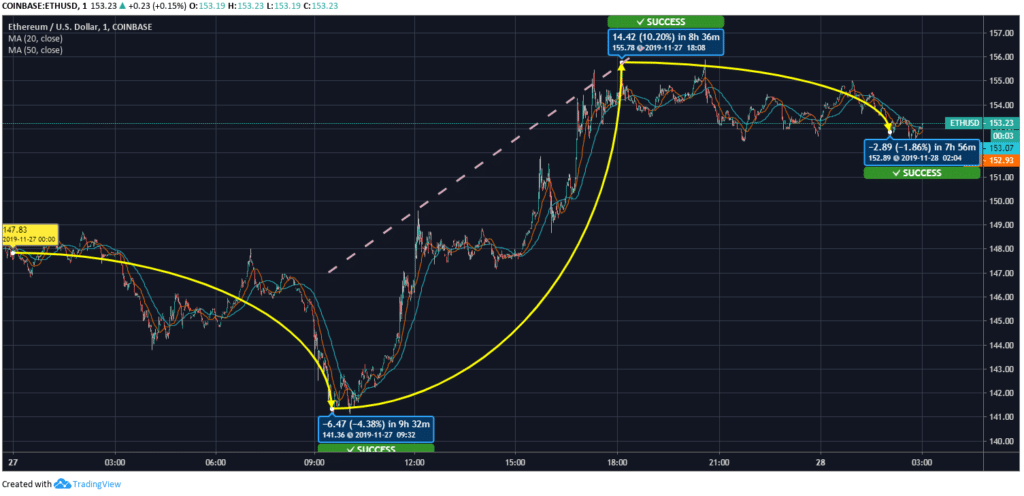 Ethereum has witnessed an increment in the market cap as well. It was at 16.634 billion USD on November 27 and now it has been increased to 16.716 billion USD.
ETH's current price is now at 153.23 USD and it is trading above both the 20-days MA (152.93 USD) and 50-days MA (153.07 USD). It shows that Ethereum's strengthening has started and it is likely to retain its growth in the coming few days. It may find itself at 157.42 USD as its next resistance.
| | |
| --- | --- |
| Ethereum (ETH) | Resistance and Support Levels |
| 1st Resistance | $157.4233 |
| 2nd Resistance | $161.8366 |
| 3rd Resistance | $168.7833 |
| 1st Support | $146.0633 |
| 2nd Support | $139.1166 |
| 3rd Support | $134.7033 |